Thinking about travel volleyball for your athlete? Here is a snap shot of what the wonderful world of competitive travel volleyball looks like...
DVC has provided the communities of Fauquier County and surrounding areas the opportunity to develop volleyball players since 2016. Kevin McClinton, owner and director has built up a strong and successful club. His passion for volleyball started twelve years ago when his own children became interested in the sport. Kevin then coached for Ceder Lee Middle School, Liberty High School, and currently Providence Christian Academy for a number of years before embarking on a competitive travel volleyball club.
First, he would tell you that it starts with enthusiastic, prepared, and skilled core of coaches. Kevin hand picks his team and is involved in their development and growth as coaches. Secondly, a great club requires great facilities and equipment. DVC uses two facilities Providence Christian Academy and the Boys and Girls Club in Warrenton, VA for practices. DVC also uses Old Town Athletic Campus/Divergent Training for Speed and Agility workouts to provide a well rounded athlete. Finally, club volleyball cannot work without cooperation and sacrifice of parents. Ever wondered what travel volleyball entails parents?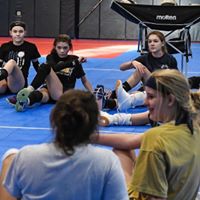 Travel volleyball starts with tryouts in November and it ends Memorial Day weekend. December is uniform fittings and training for R1 and R2, line judging, and scorekeeping for your player. There are three practices per week, two during the week and a skills practice. Divergent Training with Old Town Athletic Campus is once a week to keep the player fit and strong to help prevent injuries. After two months of practices tournaments begin. This is the heart of volleyball club between February - May where everyone is at full speed ahead with practices during the week and tournaments about every other weekend. Starting late January/February each team has at least 4 single day tournaments around the DMV area during the weekends. Also at least 3 multi-day tournaments where players/parents stay at hotels for 1-2 nights. These tournaments can be at Virginia Beach, Pittsburgh, Washington, D.C., etc. Team and individual pictures are taken and teams are encouraged to meet for bonding outside of the gym. Last year teams went bowling, had sleepovers, did indoor rock climbing, and had dinner and movie events.
Travel volleyball can be pricey, no doubt. Tuition ranges from $1500-3000 with DVC and after gas, hotels, food, etc. it can cost up to $4000. DVC realizes this can be tough for families and unlike many other clubs we offer payment plans to help spread out the cost of tuition over six months. We also try to do one fundraiser per season to raise money for the DVC Scholarship Fund to help families that qualify for extra monetary support.

I hope this helps. It's an amazing and rewarding experience. Especially when our teams bring home the gold. DVC's 2020-2021 season had six teams U12-U17 and played in 48 tournaments. DVC played in 492 sets total and ended with a 274W-218L season (56% winning percentage) and brought home 15 trophies! Not too shabby for little Warrenton, VA.
Wanna snapshot of our last season...here is our final newsletter for the 2020-2021 season.

If you want to be part of a winning organization consider Dynamix Volleyball Club.

Any questions? Free free to call Sheila Falsone, Programs Coordinator @ 443-889-4609 or email her @ sheila.falsone@dynamixvolleyball.com
Much DVC Love